Back in June 2023, Autism Bucks was approached by Catch 22 Jams to see if our members would be interested in attending one of their Jazz Jam Sessions in High Wycombe. To quote their website: "Catch22jams is the home of live contemporary jazz for the discerning ear. With live jams coming from our house band MLN Ensemble we scour High Wycombe but ultimately the globe searching for unknown and known artists to come jam with us."
These sessions take place on the last Saturday of every month in The Front Room Coffee Shop & Lounge in High Wycombe. This popular event is crowded, noisy and spontaneous – the sort of sensory ambience that Autistic people abhor. In fact, when the suggestion was put to our members, one commented: "What a neurotypical idea!"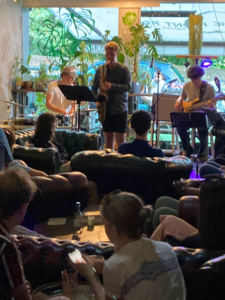 In the end, 14 of our members turned up for the September 2023 session and it couldn't have gone better. Semper and Stephanos who run Catch 22 went out of their way to make us as comfortable as possible, doing what they could to make the event as autism-friendly as possible but without changing the experience for all the other punters. They succeeded, and some!
Food was served at our table by Lauren who runs The Front Room coffee shop. It was outstandingly good, and she catered for all the different dietary requirements (including a special meal for one of our members). And it kept coming! At one point our table looked like some kind of Roman Bacchanalian Feast. Fortunately there was a cornucopia of drinks to wash it down with – if you want to see the two busiest (and yet most cheerful) people on this planet, meet Lauren's bar staff 😁.
We took a risk and it paid off. The music was very loud at times, but our members are well used to coping with this with their headphones and other ear devices. And it was crowded but our table, which was off to one side, was an oasis of peace. We cannot thank enough the people who made this happen, and we'll be back.