Road Farm Countryways is a mixed livestock and arable farm in the heart of the Buckinghamshire Chilterns. They're organised by a committed, experienced family and local community led team.
As part of the Care Farm network across the UK, they provide a way to link care of the land (our countryside) with care of people (our neighbours), providing meaningful activities to help those of various ages and circumstances feel better and more able.
On a very wet Wednesday evening in July, 12 of us from Autism Bucks visited the farm where we were hosted by Wendy and Duncan who were kindness personified.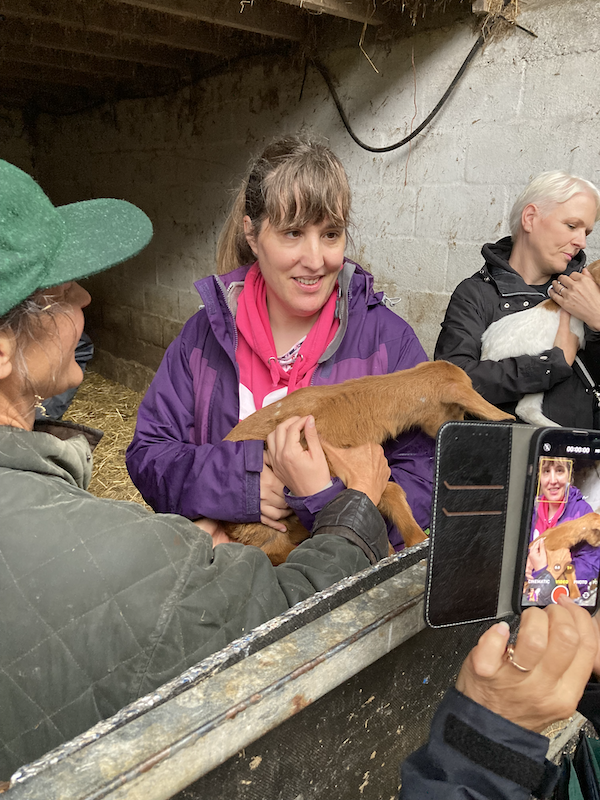 Without doubt their herd of goats was the star attraction, and everyone took turns holding the kids. A happier, more contented herd you could not hope to find. One of our members contacted her boyfriend to tell him what she wanted her next present to be – a goat.
We also became closely acquainted with turkeys, donkeys and guinea-pigs.
The plan to sit round a campfire fell foul of the weather, so we huddled in one of the farms many buildings while Wendy served us a lovely meal of hotdogs and assortments.
Not to make to big a point of it, but this is why if you are an autistic adult in Bucks you should join Autism Bucks. We are a very relaxed group that delights in welcoming new members into our mix. These away-days over the past 18 months have seen our members interact, and start to form social connections away from Autism Bucks. As an autistic person, you'll find yourself in the company of people who understand only too well what you are going through.